The San Francisco Semantic Tech & Business 2013 Conference (SemTechBiz) brings together today's industry thought leaders and practitioners to explore the both strategic and tactical challenges and opportunities jointly impacting both corporate business leaders and technologists. The program will combine innovative panels, tutorials, roundtables and keynotes. Case studies highlight semantic technology applications in action and lightning sessions introduce breakthrough approaches to solving business problems to the big data.
Profium will demonstrate Profium Sense™ mobile Context Aware Services, which proactively take into account the end-user's role, location and needs. Users can express their interest with familiar concepts, for example, hobbies, jobs, personal issues, such as allergies, family members and the locations associated.
This is a unique opportunity to explore how semantic solutions and linked data are being embraced throughout companies across a diverse range of business categories.
Profium will sponsor the conference and will be present at an exhibition stand
– meet us there at booth 121!
Profium presentation & demo "Context-aware Service Development with Immediate Business Effect in Real Time"  will take place on Mon June 3rd, at 3:40 PM in a conference room. 
Should you wish to book meetings with Profium representatives before or during the event,
please contact Ms. Sanna Immonen: sim (at) profium.com
#SemTechBiz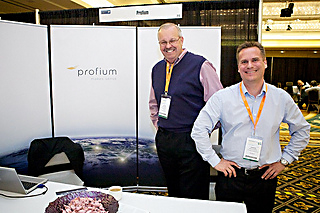 John Carlisle, VP Sales & Marketing / North-America
and Janne Laakso, VP Sales & Marketing
Profium exhibition stand at SemTechBiz 2012
© Brian Smeets Photography / Mediabistro