Profium is one of the few Finnish companies (3,8 %) which have the highest credit rating of AAA.
Soliditet has since 1993 granted the up-to-date credit rating to Finnish companies.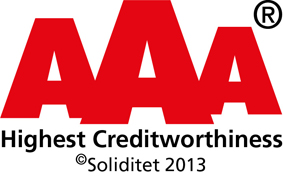 These ratings are categorized in 7 classes and the requirements for reaching the highest AAA class are inclusive of, for example, financial ratios in excess of the industry average, positive background with no payment discrepancies and sufficient volume in its operations.  
Launched in 1989, AAA grades a company's  solvency based on a series of decision rules. The result is recorded in the form of a credit rating, from AAA to C.
This internationally recognized credit rating opens doors in all of those more than 200 countries where Soliditet or its associate Dun & Bradstreet do operate.