Profium Sense™ Digital Asset Management (DAM)
Profium Sense™ Digital Asset Management (DAM) builds on top of the capabilities of Profium Sense™ Graph Database to create a powerful and flexible digital asset management solution that has OASIS (Open archival information system)  compliant architecture.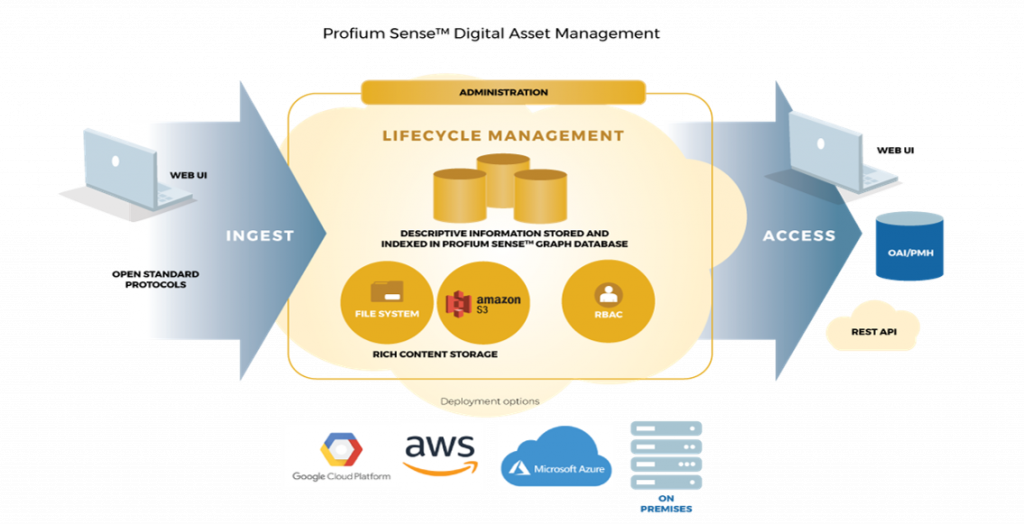 (OAI/PMH = Open archive initiative/Protocol for metadata harvesting, DIP = dissemination information package)
Flexible metadata and content file management
Profium Sense™ DAM can house any files used by your organisation, without any limits on file types or sizes. It is suitable for both document as well as media life cycle management. Profium's customers use both.
The solution has a configurable metadata schema with templates, mandatory fields and values, as well as metadata linked to controlled vocabularies. You can organise material in folders and the product supports multiple metadata structures as well as customisation of metadata.
Since the DAM is built on top of Profium Sense™ Graph Database, the use of ontologies as part of the metadata is naturally supported. The solution also supports versioning of files as well as multiple appendices for stored documents. Thas both manual and automated via API file upload, both for individual files as well as large batches. The solution also supports metadata templates that can be applied automatically.
For Finnish public sector customers the system includes the option of using metadata model and functionality that is compliant with the SÄHKE2 specification of the National Archives of Finland.
Data enrichment
Profium Sense™ DAM enriches the information content of your stored files. Firstly, the solution has Optical Character Recognition (OCR) capability in several languages, and will read any recognizable text in stored files. Second, all text based data, from OCR, the contents of stored files as well as metadata are stored into the graph database provided by Profium Sense™ Graph Database. Due to this underlying graph database, stored files can be grouped and classified by various graph methods, and are linked to each other via all their content. This allows Profium Sense™ DAM to understand what the your data is about.
Workflows
Profium Sense™ DAM includes a configurable workflow engine. This allows for the setup of workflows for various tasks such as approval of procedures or contracts.
Lightning fast search capability on any metadata field and file content
Profium Sense™ DAM has search capabilities that your users will enjoy. Search covers both object contents via full-text index and structured search based on the metadata model. Search capabilities extend to geographical information, too, which allows your users to use a map interface to find relevant objects.
Access control using roles and groups down to the metadata field level
Profium Sense™ DAM has a comprehensive access control schema. You can control if users or groups of users can access individual objects or objects within a folder – also limit the access to read-only and the granularity of the access rights all the way down to individual metadata properties.
You can opt authentication models using a built-in user database or integrating DAM with your Azure AD installation or an on-premise AD installation.
Web browser based UI, no plugins required
Profium Sense™ DAM has a Web based responsive user interface. You can customise it to your branding guidelines.
Secure deployment
Profium software deployments to on-premises environments come with hardening instructions for operating system, http reverse proxy, log server and the software itself to make sure your meet with stringent security requirements. Cloud deployment provides you with the same guarantees and let you focus on your business while Profium takes care of the security aspects.
Typical deployment project

It is possible to install Profium Sense™ DAM  both to your on-premises environment or to a cloud of your choice. Scalable High Availability (HA) architecture is also available for deployment to make sure there are no single points of failure and that you can add more nodes to cope with increasing load.