The Profium Sense DAM solution enables Tuomi Logistiikka to archive material of over 250 annual tendering processes in a safe and easy way.
Tuomi Logistiikka Oy is a purchasing and logistics company owned by City of Tampere and Pirkanmaa Hospital District. The company offers procurement, materials, transport and passenger services. Tuomi Logistics slogan "For an easy, flexible, economical and evolving everyday," sums up the company's customer promise. The net sales of Tuomi Logistiikka are approximately EUR 90 million and the company employs nearly 200 procurement and logistics specialists.
Profium's digital web-based archiving system is used to manage all documents, throughout the document lifecycle, from storage to long-term archiving and disposition. Tuomi Logistiikka started with the long-term archiving. The system will alert the person in charge when the document filing obligation approaches the due date and disposal is possible. The material includes more than 250 annual tendering processes for tender, contract and decision documents, and financial and personnel management documents. Profium delivered the solution via Software as as Service (SaaS) model.
The archive system includes Profium's Semantic Search and a patented Rule Engine. Tuomi Logistics SÄHKE2 compliant information management and archiving plan is a business configuration for the Profium Sense product. The system is able to automatically attach metadata to a case or document, for example, from user data and processing rules. The ontology and all the metadata are encoded using RDF open standard. This approach enables all queries in the system to be expressed using SPARQL standard, also from W3C.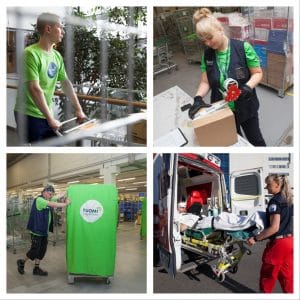 Antti Koljonen, the ICT Manager of Tuomi Logistiikka, is pleased with the agile  implementation project. "The system is also easy to use. Our employees adopted it without any separate training when starting to record documents. We have several operational environments for different customer organizations, and now the management of related documents is efficient, secure and easy – thanks to the clear metadata management, and user roles and rights management of the Profium digital archive system", he summarizes.